Overview
Edit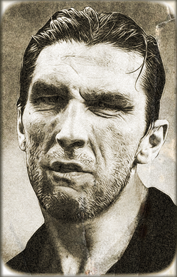 Ben O'Conner is an Irish hoodlum who's always getting in to fights, making lots of enemies in the process. He also runs a racketeering business for which he sometimes requires extra firearms. Well, they're for his grandma to, erm, vermin, yes, big vermin that she needs to shoot to keep the place clean. Nothing to do with crime, it's all about keeping Ireland (Eire) rodent free.
Beneath his harsh exterior, he's somewhat emotional. His feelings can be hurt, especially if someone throws a brick at him, and he often contemplates giving up his life of crime to open a pub. If he's in a good mood, however, well, people have learnt to avoid him on his good days as he can be a bit... unstable.
Buys:

15 for $155 ($10.3 per barrel)
20 for $210 ($10.5 per barrel)
25 for $265 ($10.6 per barrel)
30 for $320 ($10.7 per barrel)
35 for $375 ($10.7 per barrel)
40 for $425 ($10.6 per barrel)
Buys:

3 for $120 ($40 per weapon)
6 for $240 ($40 per weapon)
9 for $360 ($40 per weapon)
12 for $480 ($40 per weapon)
15 for $600 ($40 per weapon)
18 for $720 ($40 per weapon)
Ben often run out of money, with a small fee he will sing drunk song about you, increasing your heat.

15 heat for $600
40 heat for $1,500

When doing beer jobs, Ben sometimes gets drunk, causing past enemies take advantage and ambush him. He'll be in a bad mood and it's usually best to appease him:
Do what you must; get full value of trade, but suffer -5 feared rating
Go buy booze; reduce the amount of money received to avoid loss of fear rating
When Ben's in a good mood, he goes looking for fights and will offer to increase your feared rating if you give him a discount on the deal:
Just take the cash; he pays full amount, no hard feelings
A word out will be nice; for a small discount get +5 feared rating
If Ben is so happy he feels "like a wee lad again", he'll be determined to put a good word out for you:
Thanks, Ben; he pays full amount, get +5 feared rating
Spread the word further; for a small discount get +10 feared rating
Sometimes when doing beer jobs, you discover Ben's twin brother teased you. After Ben get and beat him will try to resolve the situation:
I want my beer back and would not hurt if with some interest; give back your beer +10 barrels as interest
Say that it was I who beat up your brother; give back your beer and +5 heat
Ad blocker interference detected!
Wikia is a free-to-use site that makes money from advertising. We have a modified experience for viewers using ad blockers

Wikia is not accessible if you've made further modifications. Remove the custom ad blocker rule(s) and the page will load as expected.